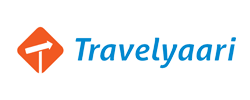 Q) Why should I book bus tickets with Travelyaari.com?
A: Travelyaari.com, the flagship brand of Mantis Technologies Pvt. Ltd. is the largest online bus booking portal in India with over 5795+ bus operators across 1,50,000+ bus routes. Some of our outstanding features are:
Easy navigation and even faster bookings
Lucrative cashbacks and a huge array of big discounts & benefits of Privilege memberships
Our 'Surety' and 'Trust score' features through which our customers play a key role in weighing the quality, service and ranking of all our bus operators.
We provide 'TYSURE' insurance to protect our customers against last-minute cancellations and accidents.
Q) What types of offers and payment methods are available?
A: We offer a huge range of bus ticket offers to benefit all our users such as attractive discounts for our first time user, Debit/Credit card offers, seasonal offers etc. Download our app to unlock and enjoy even more offers. Stay tuned in to take advantage of our seasonal offers which we keep updating frequently.
We offer the following payment options:
Debit/Credit card (major supported cards - Visa, Mastercard, Amex, Rupay etc)
Netbanking(Choose from more than 39 banks)
All major wallets/Cash cards (all the best wallets)
Paypal
Buy now, pay later
UPI payments
Q) How can I View/Cancel/Modify my bus booking?
A: To view your bookings, login & click on 'Manage Bookings' and you will find your bus booking details on the redirected page. Similarly, you can modify the details of your journey by clicking on the 'Modify' tab and alter details according to your preferences such as Prepone/Postpone your trip, Passenger details, Seat number, Pick-up location etc.
Q) How do I book for bus services which are safe and reliable?
A: Take full advantage of our 'Trust score' feature and be rest assured about safety and bus reliability while booking your tickets with us. We also introduce our 'Surety Assurance' feature through which we refund guaranteed payments within 48 hours in cases/incidents wherein the bus operator that is covered under 'Surety' feature at the time of booking does not provide you with the services as promised.
Q) What is TYSure and why do I need it?
A: TYsure becomes a necessity worth investing in if you want to ensure your travels with us. At a minimal fee of Rs20 we provide you with Rs.1 lakh insurance coverage. We will also arrange for an alternate bus with the quality of booking to be at par or superior with what was booked earlier by you. In case we are unable to provide alternative arrangements as per your travel time requirements, we would refund double the amount paid by you.
Q) What is Privilege membership and how to apply for it?
A: Privilege membership is the membership programme which we offer to all our users once they book with us, at no extra charges. As our Privileged member, you are entitled to enjoy lots of perks depending on the frequency of your travels with us. In other words, the more you travel with us, the more discounts you get.
Q) What should I do if I face any problems while booking bus tickets?
A: This is a very rare occurrence. However, if you face any problem/s while booking your bus tickets with us, please reach out to us on feedback@travelyaari.com or send us a feedback using the 'Get Help' & 'Give Feedback' sections on the Website & App.
Q) What documents should I carry while boarding a bus?
A: Please remember to carry your Government approved ID cards such as - Adhaar card, Driving Licence, Passport etc along with your bus ticket while boarding the bus.